Google recently added new features to the Google Maps app, making it even more user-friendly and useful. Now, a new server-side update brings handy features to the Google Maps widget right on your home screen, Android Central reports.
Navigating to your favorite destinations can now be done directly on your home screen
The Home Screen Widget for Google Maps on Android is getting some useful additions to its features that have already made their way onto the iOS 15 Widget for the same app. It will allow you to navigate to your favorite destinations directly from your home screen, supports Android 12 Material You Dynamic Color, and is available as a server-side update (so you can't manually install the new version, but you'll have to wait for it to appear). First, let's talk about the new navigation feature. The new widget now has several useful shortcuts that will help you navigate to your favorite destinations. It can offer shortcuts to home, work, restaurants, and gas stations, and the number of shortcuts you can fit in depends on the size of the widget you've chosen. If it's a bigger one, you may also have grocery stores, cafes, hotels, and restaurants to take out.
The new widget was first spotted by
u / Mathieu_G_Gagnon on Reddit
, and this is part of the new Maps beta update version 11.3.0. With these shortcuts, you can start navigating without having to open the app itself and manually enter a destination. The widget also has a search bar at the top so that you can quickly find other destinations as well. Currently there are only eight shortcuts that can be added to the widget at maximum size.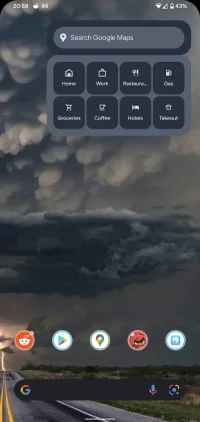 Another update to the Google Maps widget only shows up on devices running the beta version of Android 12. This is actually Dynamic Color, which is basically the color of your wallpaper and your apps and backgrounds for a more consistent visual experience. Dynamic Color comes with Android 12's Material You overhaul, which aims to deliver a more enjoyable viewing experience with colors that match everywhere and more rounded corners of apps, along with other subtle design tweaks here and there. .
If your phone is Android 11 and you have not updated to a beta version of Android 12 (the stable version of the new operating system has not yet been officially released), the Google Maps widget will remain with Maps' blue accent color.
This update highlights Google's plan to extend home screen control for some of its apps. So far, YouTube Music, Google Keep, and Drive have also received new widgets.
Keep in mind that the Google Maps widget update is server side and as we mentioned before you have to wait to receive it, if you still haven't received it on your Android phone.
The YouTube Music widget has also recently been redesigned
Recently we reported that the The YouTube Music widget also got the Material You elements of Android 12. The new widget is coming again as part of a server-side update, so if you haven't received it yet, you just have to. 'to wait for him. It looks like a vinyl record with a like button on the top right and play / pause controls on the bottom left. So far, many apps from Google have already received the new Material You design as an update. It is now available for its productivity apps like Gmail, Google Docs, Google Drive and others, as well as Clock and Google Lens. Translate and Messages have also received Material You elements in preparation for the official large stable release of Android 12.